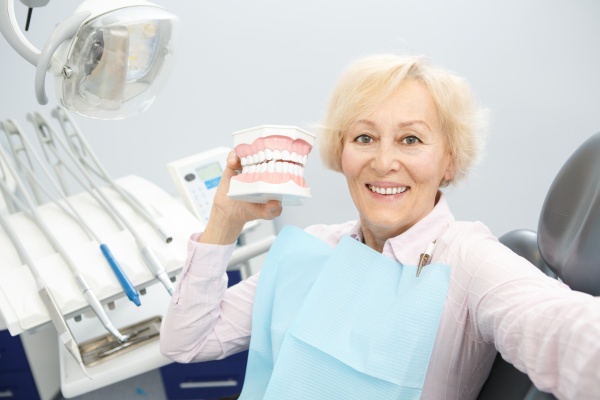 If you have failing teeth and are unhappy with your current smile, hybrid dentures may be the secure solution you are looking for. They are not as permanent or expensive as affixed dentures but are sturdier than snap-in dentures.
What is a fixed hybrid denture?
A hybrid denture is a type of implanted denture designed to improve the support and strength of your dentures. Like removable dentures, hybrids sit on top of the teeth and gums. However, they are secured with screws to the dental implant and cannot be removed without the help of an implant dentist.
Also known as fixed-detachable dentures, hybrid dentures are more natural looking. Four to six dental implants are placed in your mouth to create a solid base to which it is attached. If you have teeth that you do not want to have removed but you have significant bone loss, this hybrid between a removable denture and dental implants may be the fix you are looking for.
Before deciding whether or not hybrid dentures will fit your lifestyle and needs, consider these pros and cons.
Pros of hybrid dentures
Because hybrid dentures are screwed in directly to dental implants, they offer better support. While other dentures can become loose or dislodged during normal activities such as talking or eating, hybrid dentures will not.
In addition to being sturdy, these dentures look and feel like natural teeth. Unlike snap-ins, the hybrid denture does not cover the roof of the mouth, allowing the wearer to more fully enjoy eating and drinking. Messy creams and adhesives are not needed to secure hybrid dentures in place. Gum irritation is eliminated, as is denture slipping, and the bite strength is increased, allowing for an increased option of foods.
Cons of hybrid dentures
A common disadvantage of hybrid dentures is that a small amount of food or bacteria can lodge its way beneath the dentures, causing some discomfort. They are also more difficult to clean than snap-fit dentures, but daily maintenance is as simple as cleaning natural teeth. For daily maintenance, the wearer must brush, floss and maintain regular dental visits and cleanings every six months to one year.
Additionally, while hybrid dentures are less bulky than removable dentures, an improper fit can lead to breaks or even bone loss around the dental implants they are secured to, which is why it is important to have a proper fit for hybrid dentures. It is also important to find a skilled implant dentist to ensure that implants are placed and heal correctly.
Are hybrid dentures right for you?
Everyone's mouths and dental needs are different. Overall, hybrid dentures allow for a better quality of life, confidence, more food options and the same care one would give to their natural teeth. It is important to discuss your options with a qualified hybrid denture dentist to discover what type of denture is right for you.
Request an appointment here: https://www.davidbakerdds.com or call David L. Baker DDS PA at (972) 612-3920 for an appointment in our Plano office.
Check out what others are saying about our dental services on Yelp: Hybrid dentures.
---
Related Posts
March 4, 2021
Learning more about replacing or repairing dentures is your next step when you have broken dentures. Since many people depend on their dentures to perform everyday activities like eating and talking, …