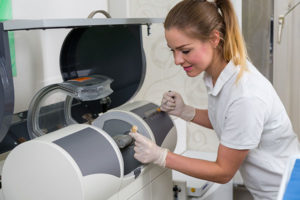 David L. Baker DDS PA can provide you with dental crowns if you are in need of a dental restoration. This is one of our most popular solutions because of how durable and long-lasting crowns are. They essentially surround a tooth like a cap, preventing anything from coming in direct contact with it. If your tooth has been severely damaged in an accident while playing sports, due to erosion, or from an infection, this is an ideal solution.
Traditionally, crowns consist of silver, but now we can provide you with a tooth-colored crown as well. This means it will provide you with the durable and dependable protection you need while looking completely natural. Once a crown is in place, you can bite down with full force and not worry about experiencing any discomfort. It is truly an ideal restorative solution that will last for years.
It can, however, break just like a natural tooth can. This means you need to be careful with how you take care of it. Avoid doing things like biting on a pencil or chewing ice, since these can cause damage to your natural teeth and restorations. Additionally, here are a few steps you can take to prolong the lifespan of your dental crowns.
Tips to extend the life of your dental crowns
Maintain excellent oral hygiene
Remember to brush and floss your teeth throughout the day. If you get an infection or suffer from gum disease, this can put your natural teeth and crowns at risk. Remember that a crown is surrounding a tooth with a root system. If a tooth has an infection, then we will need to remove the crown to remove the infection. Good oral hygiene is a necessity.
Visit our dental office
While conducting routine dental exams, we will inspect your dental crowns to determine if they are in good condition. If they have sustained damage, we might be able to restore them instead of replacing them. This depends on the extent of the damage and how quickly we identify it. As such, we recommend that you visit our office for teeth cleanings and dental exams twice a year.
Use a night guard
Grinding your teeth is dangerous because it can cause your natural teeth and restorations to sustain damage. It can lead to erosion and even cause your restorations to pop off or become dislodged. It can also lead to TMJ symptoms like jaw pain and headaches. In order to prevent this, you only need to wear a night guard while you sleep. This comfortable device looks like a retainer and prevents your upper and lower teeth from touching.
Wear a mouthguard
Protect your dental crowns and natural teeth from a sports injury by wearing a mouthguard. Sports injuries are a leading cause of mouth injuries. By wearing a guard, you are placing a barrier between your teeth and a runaway ball or elbow jab. This is a simple step to take that can help your dental crowns last longer while preventing the need for additional restorations.
Call (972) 612-3920 to schedule an appointment with David L. Baker DDS PA in our Plano dental office.
---
Related Posts
December 3, 2020
Dental crowns are a popular restoration option used by general dentists. Restorations are often needed when teeth are in bad shape, as they help bring the tooth back to life, thus encouraging good oral health. …
---